This Festive season, we bring you six of Uncle Ebo Whyte's Plays. 6 Plays of 6 Days of a music, dance and spectacular stage drama with action pack emotions, values, life lessons, laughter and memories to keep you and your family bonding forever.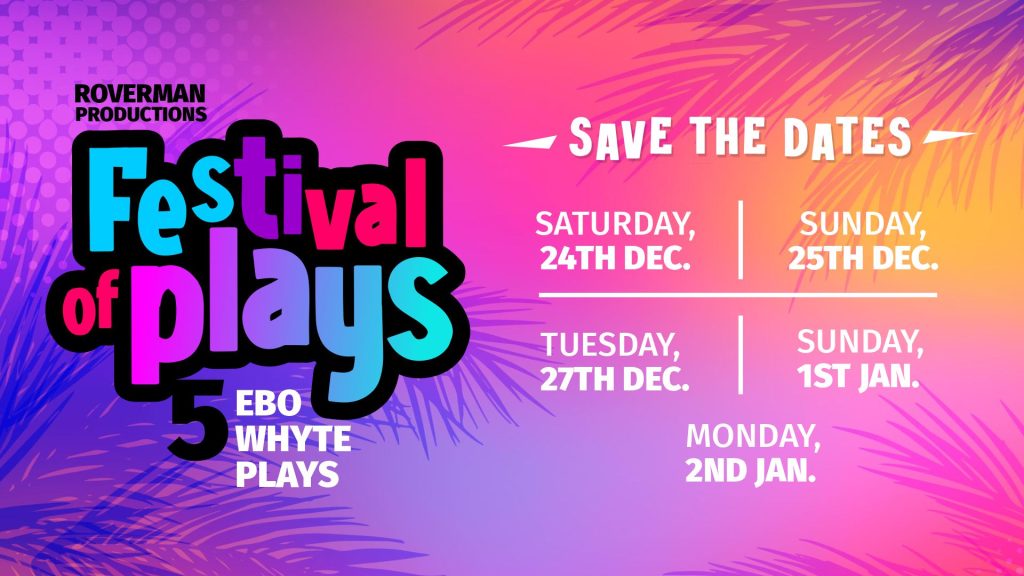 We invite you to be a part of an amazing rich experience of World Class Entertainment
The Roverman Production's Festival of Plays is by far one of the biggest Theatre Festival in Ghana and possibly in Africa. With 5 Ebo Whyte's Plays, carefully selected stage plays produce over the cause of the Christmas and the New Year. It is the perfect occasion for family and friends to relax, laugh and share in life lessons centered on relationship, faith, love and family values
This Festive season, from Christmas day to the New year… We package some thrilling theatre performances just for you. Each carefully selected on specific days to brighten the occasion with family and friends at the National Theatre.
DEAR GOD COMMA
sat. 25th dec
Dr. Mrs Effie Aggrey is on the brink of a promotion, and her husband Prof. Fiifi Aggrey is being considered to head the company they both work in. But an interesting turn of events threatens to throw their achievements down the drain and to salvage the situation Effie needs to send a memo to God, fast! But will a memo to God work?
THE COMEBACK
mon. 27th DEC
What can a man expect after working hard abroad and sending money to his family to set up businesses for him? A comfortable life back home at least, but for Jojo, the day he returned home was the day he decided to kill his brother and commit suicide.
CAUGHT IN THE ACT
TUES. 28TH DEC
"Caught in the Act" tells the story of Martin who returns from trek to find his wife in bed with another man. That was bad enough for him but when his wife showed no remorse and the strange man asked for privacy; Martin begins to wonder if he's dreaming. But his nightmare has only just begun as his next move opens the Pandora's Box and threatens to blow his world and that of his parents apart.
In "Caught in the Act", Uncle Ebo Whyte weaves his most intriguing story yet and takes the audience on an unbelievable journey of betrayal, blackmail and restoration.
Devil's Wife
sat. 1st jan. 2022
Meet Zoe, beautiful, rich parents, a star in her own right. But three men who made the mistake of falling in love and marrying her died on the wedding night before they could consummate the marriage. 
Now meet Rev. Kweku Kom, intelligent, beloved pastor and a rising star in his own right. But the girl he was going to marry 5 years ago died a few days to the wedding. 
And now, Rev. Kom is determined to marry Zoe. Someone will die but who will it be?
BLACKMAIL
sun. 2nd jan. 2022
On the eve of his consecration to the office of a bishop, Reverend Elisha receives the shocking news that his wife has been cheating with a member of their church. Before he could deal with this heart-breaking news, an even darker secret that was left buried in the USA rears its ugly head. It threatens to destroy his marriage further, and end his career as a renowned preacher in one of the biggest churches in Ghana.
Within 24 hours, he has to take a decision; one that has the potential to make him lose either his wife or his ministry, or both.
Our best kept secret is our wornderful cast and crew who grace the stage and backstage to bring the stories to life. The best way to experience our shows is to book your seat at the theatre and enjoy the moment.  Our cast are individuals from all walks of life with professional backgrounds in different disciplines.
Much gratitude to all for being a sponsor of this year's Festival of Plays